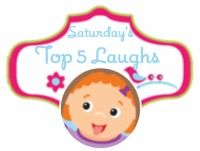 Week is about to end; after lblogging on how thankful I am being a stay-at-home mom, I might as well join this blog hop
Saturday's Top 5 laugh
.
Because it is indeed a week filled with laughter and fun...
The Top five moments that made us laugh this week:
1. The pillow game never failed us. My daughter loves it when I encircle her with Pillows. She burst out with laughter every time we play this kind of game. Her faces during the play make me laugh each time I remember. To read about our pillow game
CLICK HERE
.
2. She is such a tease. Our neighbor find our daughter adorable that she tend to hug our baby so tightly, rock her hard, swaying her, and touch her all over! In return, Ivy would rather turn away every time she is near or by just hearing our neighbor's voice, sometimes pull her hands off when she is touched. It can drive my daughter mad that she scream rather than cry in fear. This morning after Ivy cried because of our neighbor, because of "you are so adorable baby" Ivy seems to find way to get even
J
She called neighbor's attention by raising her hand as if she wanted to tell, "Get me! Get me", but every time neighbor gets near Ivy would turn away and giggles. WE all burst out with laughter
3. I recently personalized our wall with her name making use of a Barbie Alphabet Flashcard we got from the nearest bookstore (CLICK HERE). Yesterday I caught Ivy talking to one of the Barbie cards, she simply stare at one nearest her crib and babbles continuously. I find that too funny, oh my! I'm seeing a little girl who will someday become a best friend of an imaginary kids
J
4. My daughter
doesn't
want to be disturbed every single time she poops. So yesterday, I intentionally put my child in her crib so she can play without me worrying that she will fall from bed and to give her a silent moment as well. Suddenly I sensed her she is poop-ing. When I went near, she readily holds to the crib railing like saying "no! Don't disturb me, I'm not done yet!"
5. These facial expression made it to my top 5 laugh: Some of our "Today I eat" moment/ her first to eat the following solid food: